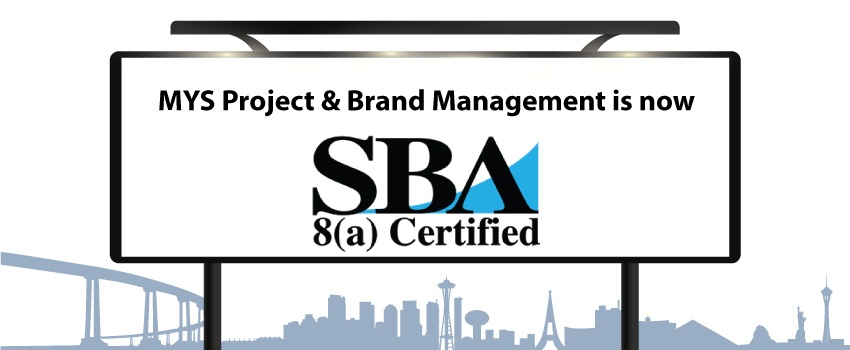 Media Contact: Myisha Y. Williams, (702) 330.2449, press@mysfirm.com
FOR IMMEDIATE RELEASE
MYS Project & Brand Management certified as a Participant in the U.S. Small Business Administration's (SBA) 8(a) Business Development Program
Las Vegas, NV – January 16, 2018 In late 2017, MYS LLC, dba MYS Project & Brand Management (MYS) received certification as a participant in the U.S Small Business Administration's (SBA) 8(a) Business Development Program. 8(a) Business Development Program participants receive the great honor of access to business resources development assistance from an assigned SBA Business Development Specialist in the Nevada state.
Qualifying for the 8(a) Business Development Program is an intense process with stringent standards for certification which includes an in-depth review of the business as well as its managing partners. In addition to its requirements for the small business to be managed by socially and economically disadvantaged individuals, the process is designed to confirm that the business demonstrates a high potential for success. To ensure success over the 9-year certification, MYS is required to partake in annual reviews, systematic evaluations, and continual business planning.
MYS is eligible to receive sole-source contracts up to $15 million and is seasoned in joint ventures and teaming agreements to bid on larger prime contracts. MYS is certified under the primary NAICS 541611 with established competencies including oversight, maintenance, and formal reporting of activities related to project scope, schedule, budget and resources. MYS houses high-level consultants that provide a full range of administrative; human resource; marketing; graphic design; and general management.
About MYS Project & Brand Management
MYS Project & Brand Management is a Nevada-based professional services firm specializing in technical support services for private and public industry. MYS is a certified Women's Business Enterprise (WBE), California and Nevada Disadvantaged Business Enterprise (DBE), Small Business Enterprise (SBE), Nevada Emerging Small Business (ESB), Minority Business Enterprise (MBE), Washington and Oregon State Minority Women's Business Enterprise (M/WBE), Economically Disadvantaged Women-Owned Small Business (EDWOSB), and 8(a) certification, adding to MYS' growing list of designations. For additional information regarding MYS, visit http://mysfirm.com.